Barstool TV is the best option for reliable, high-quality streaming of premium Barstool Sports content.  You can now watch exclusive live Barstool Sports Pay-Per-View events (no subscription required) on Barstool.TV, by purchasing a ticket. Follow the guide below to order Pay-Per-View events on Barstool.TV.
How to order Pay-Per-Views on Barstool.TV:
Navigate to our Pay-Per-View event by selecting our Pay-Per-View section or clicking

 

here (via Barstool.tv/ppv).
Tap or click Buy Now button on the Pay-Per-View event to purchase
Create an account or if you already have a Barstool Sports account, you may use it to access Barstool.TV PPVs.
Follow the prompts to complete your purchase
On the day of the event, a video player will load that will stream the event directly on Barstool.tv/ppv. Simply click the Watch Now button to access the stream.
Note: One-Time Passes include access to the live events PPV stream and the on-demand replay when applicable.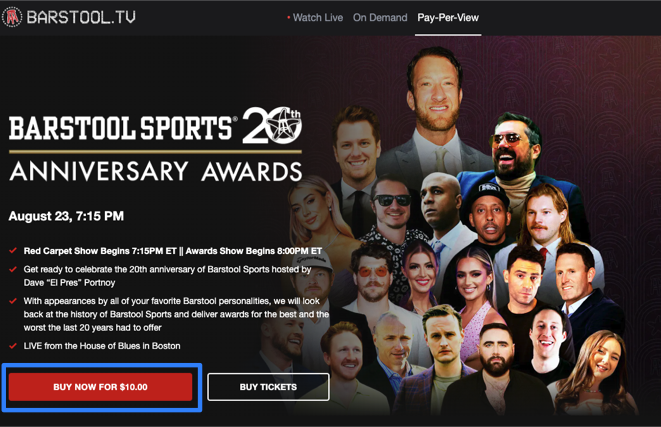 Where and how can I stream the event?
The event will ONLY be live-streamed on www.barstool.tv/ppv. You can watch the event on any Google Chrome or Safari-compatible device (including iPhone and Android) and mirror your laptop / desktop / phone to your TV with Apple TV / Chromecast for a larger viewing option.
Once you get to the site, purchase the event. If you already purchased, use the login button and stream the event directly from the website player. 
Please note: The event will NOT be available on Roku, Amazon Fire TV, Smart TV browsers, Android TV devices, barstoolsports.com, the Barstool Sports mobile or AppleTV apps.
Can I pause or rewind the livestream?
No. You cannot pause or rewind the event once it has started. 
When and where is the replay available on-demand?
If you missed the live stream or tuned in late, you can still purchase the event or catch the replay for 48 hours. The pay-per-view event replay will be available about 1-3 hours after the event. One-time PPV Pass purchasers will typically have access to the replay for 48 hours.  Check your purchase receipt for specific event replay information. Afterward, it will be unavailable to everyone. 
Is this available on Pay-Per-View, Cable, or DirectTV?
No. The event will only be accessible online at www.barstool.tv/ppv. Simply purchase the event, and check out all of our streaming options. It's super easy to connect one of your devices and have the event on all night long. More info.
Do you have a mobile app?
No. The event will only be available via direct browser streaming on any Google Chrome or Safari-compatible device from www.barstool.tv/ppv.
Will this stream work outside the US?
Yes. The stream is available worldwide. One-time PPV Passes must be purchased using USD.
How can I contact support?
For general PPV inquiries, you can email our Support team via support@barstoolsports.com.